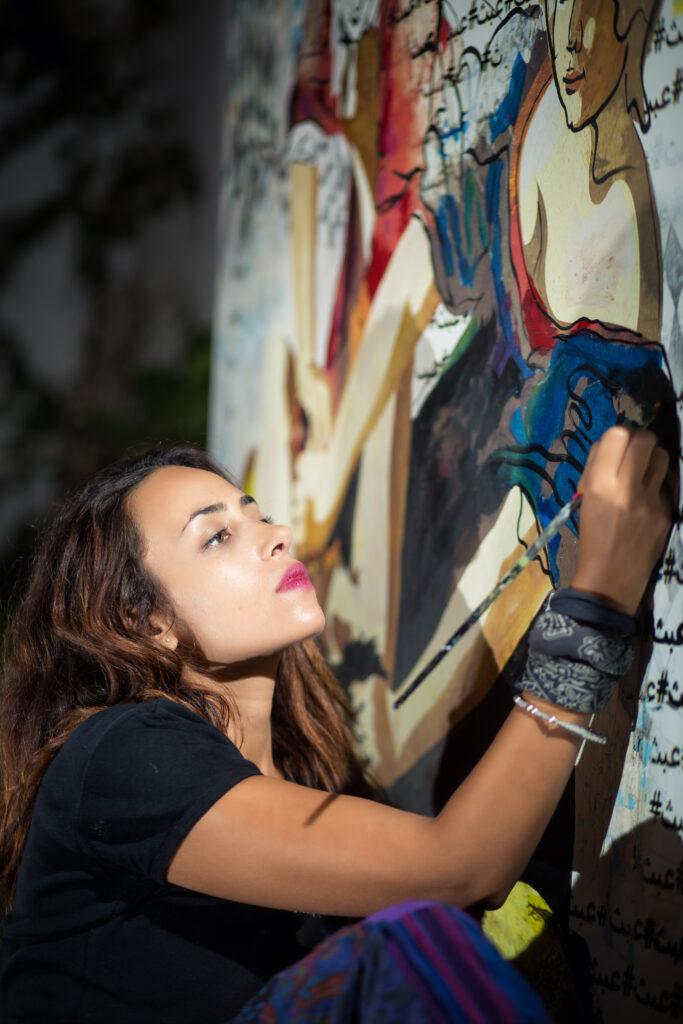 Practicing art has always been something that has brought balance to my life, it makes me feel empowered and fulfilled."
Rasha Amin is an Egyptian multidisciplinary artist based in Italy, earned a Bachelor of Fine Arts in Helwan University Cairo / Egypt in 2003.
Her work has been exhibited internationally in both solo and group shows, combining painting, drawing, photography, installation, and experimental video art. Amin has found an intersection point between them and subsequently developed her own visual and conceptual vocabulary.
Her body of work is about the idea of deconstructing different aspects in her life through the themes of time, memory, and emotions and rebuild them again to create a new connection and different meaning that explores a new existence.
Solo Exhibition
– Rebirth, Pavart gallery, Rome, Italy, 2022
– The Chaos of the Mind, Castle of Svevo, South of Italy, 2018
– Cinema Pop Art, Egyptian Academy of Rome, 2018
– Ctrl+D, TU Berlin, Campus El Gouna, Hurghada, Red sea, 2016
– Lost In Transition, Gezira Art Center, Zamalek, Cairo, 2015
– Passion, Zoor Khana, Zamalek, Cairo, 2013
– Dokki Ya Mazzika, Art House, Zamalek, Cairo, 2011
Group Exhibition
– The Metamorphosis, Safarkhan Art Gallery, Egypt, 2020
– EX by Art D'Égypte, Art townhouse, Almaza bay, North coast, Egypt, 2020
– Pop Art From North Africa, Cordoba, Spain, 2020
– Timeline BH5 Film Festival, Brazil, 2019
– Mozimotion Film Festival, Netherlands, 2019
– Pop Art From North Africa, Madrid, Spain, 2019
– Video art Miden, Kalamáta, Greece, 2018
– Something else- Off Biennale Cairo, 2018
– Paris Outsider Art Fair, Paris, 2018
– Pop Art from North Africa, London, 2017
– visionary art show, Contemporary Art, Lecce/Italy, 2017
– 8th Cairo Video Festival, Cairo, Egypt, 2017
– Supermarket Stockholm Art Fair, Sweden, 2015
– Madatac 07Festival, Madrid, Spain, 2016
– Cairo Art Fair, Artsmart Gallery, Cairo, 2015
– Women by the Sea, TU Berlin Campus, El Gouna, Hurghada, 2015
– Talk Love, Act Peace, CAP, Kuwait, 2014
– Salon of Youth, Opera House, Cairo, 2014
– Salon Ramadan, Darb1718, Cairo, 2014
– The National Exhibition, Opera House, Cairo, 2014
– Lansman & International Art Exhibition, Cemal Reşit Rey, Istanbul, Turkey, 2014
– Özyeğin Üniversitesi Çekmeköy Kampüsü, Istanbul, Turkey, 2014
– Inspiration2, Cairo Atelier, Egypt, 2014
– Festival SICA COTONOU/ BENIN 2013
– Cairo salon for fine arts, Opera House, Cairo, 2013
– Al Asmakh International Symposium Fine Art, Doha, 2013
– Fragments, Espacio gallery, London, 2013
– 100 meters, 100 artists, The -Espacio Gallery, London, 2012
– Underwater Artists Dahab Art Festival, Red Sea, Egypt, 2011
– Risveglio, Roma, 2023